"Classic Style Victorian Weird Tales"
This is a magazine for the true modern traditionalists, the disciples of writers long-dead, those who yearn for a time
and culture that passed away decades before their birth.
This is The Willows!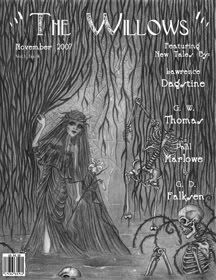 Features stories from are new issue
By
G. D. Falksen, G. W. Thomas, Lawrence Dagstine, Paul Marlowe, and many others!



For a small preview of each story click here



We are on Myspace at
http://www.myspace.com/the_willows_magazine
&
Livejournal at
willowsmagazine.

We look forward to hearing from you!

Thank you and good night